Premier week end d'Octobre - First week end of October
Encore un week end des Ouvrages Oubliés de passé....
It was "our forgotten work" week end again...
J'ai bien avancé le quilting de mon petit panneau, même si ça ne se voit pas sur la photo....
I made some progress on my little panel,even if you can't notice it on the picture...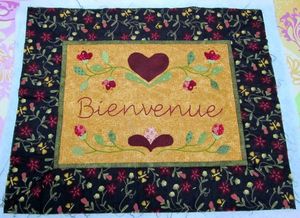 J'ai fait le tour de tous les motifs et la petite bordure.... Il me reste à trouver une idée pour la grande bordure... pour le mois prochain !
I quilted mostly everything... I just need an idea for the border...next month !
Sinon, comme promis, voici des images de mon premier OO, entièrement terminé !!!
And as I promised, here are pictures of my first forgotten work...completely finished !!!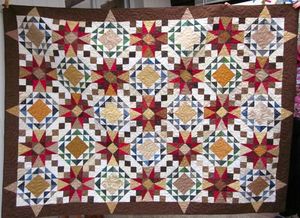 Revenu de chez Simone Struss... admirez le quilting !!
Come back from Simone Struss studio... look at the quilting !!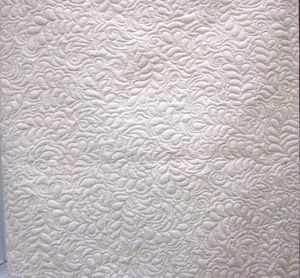 Superbe, n'est-ce pas !!
Isn't it beautiful !!